The Bowen Technique
Bowen is a holistic, non-invasive therapy that is suitable for anybody who is seeking a gentle approach to treatment.
A Bowen treatment aims to balance the whole person, not just any presenting symptoms and as a result can have an effect on all body systems.
Any concern can potentially be addressed and some people use the Bowen Technique as a means of stress management and health maintenance.
During a Bowen treatment I use my thumbs and fingers to make a series of gentle but precise rolling-type movements over muscles, ligaments, tendons and fascia.
Each carefully chosen set of Bowen moves is followed by a short break where you are left alone in the treatment room. This rest period is a vital part of treatment giving your body time to make the subtle and fine adjustments which help it re-balance.
It is these features which make the Bowen Technique unique.
---
Pricing:
New Client Appointment (90 mins) £60
Follow-up Appointment (60 mins) £45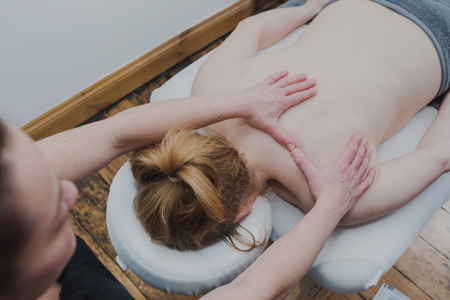 "Before seeing Emma my sciatica stopped me doing the most basic of activities. Walking was difficult and I developed a limp. Since having Bowen I no longer limp and am able to bend, lift and carry out my daily activities with no exceptions. I also no longer have a 'dead leg' when I wake up in the morning."

Angela Lewis